PHONE
(925) 447-4869
FAX
(925) 447-4815
HOURS OF OPERATION:
MONDAY - FRIDAY
7:00am - 5:00pm
SATURDAY
8:00am - 3:00pm
SUNDAY
( Closed )
Website Manager Email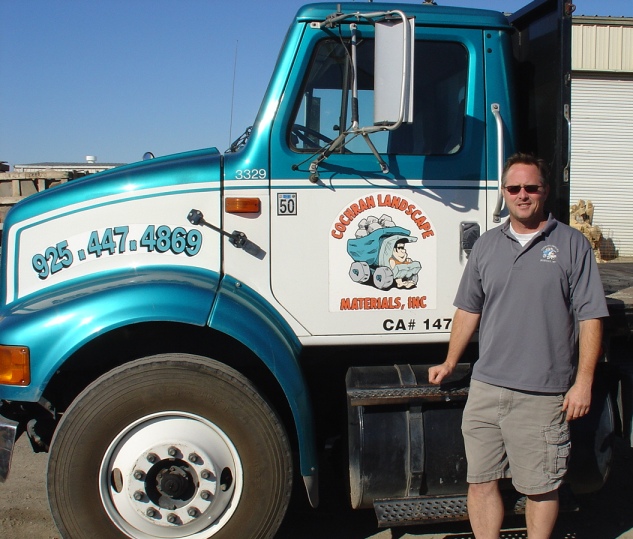 COCHRAN MATERIALS has been serving the Tri-Valley and beyond for nearly 15 years. Started in 1992 by Jack Cochran, a local landscaper ("Donít Break Your Back, Call Jack"), as a small business selling amended soils. Listening to the local needs of landscape contractors, Jack added bark, decorative rock, and eventually flagstone and other concrete products. Business soared as local residents and contractors became aware of the new landscape yard. Jack then added his number one assetÖ. Diana, his wife and bookkeeper, to help out with day-to-day business and counter sales. Five years later, their son Kyle moved home and joined them as the predecessor to take over the family business. Kyle, with a background in engineering, is now taking care of the family business as Jack and Diana enjoy their retirement.
As the new owner of Cochran Landscape Materials, I would like to thank my parents for giving me this opportunity to strive as a business owner. I learned a lot in the three years working with my folks, such as, listen to your customer, donít get greedy, and enjoy what you do! As the owner of Cochran Landscape Materials, I guarantee you the lowest prices in town. My staff and I are at your service for all your landscaping needs. Some of the products we offer are: Soils, Compost, Decorative Rock and Boulders, Bark, Sod, Moss Rock, Flagstone, Brick, Tile, Paving Stones, Retaining Walls, Masonry Supplies and Pond Equipment. Please stop by and say hello, we are here to help you six days a week. Donít forget we deliver.